The all-purpose snarky internet article
by Toby Manhire
/ 19 November, 2013
The ultimate generic Opinion Piece on A Controversial Topic - complete with user comments.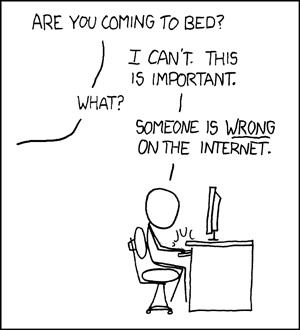 Sometimes the internet seems to be made up entirely of a snide denunciation of this, a snarky defence of that.
And into that diatribe soup arrives an all-purpose example of the form, from Edward Sharp-Paul at the Australian pop culture website Junkee.
Under the headline "
An Opinion Piece on A Controversial Topic
", he writes: "I was inspired to write this piece by Currently Fashionable Polemicist".
He offers the assurance that "In case you think that I have taken a knee-jerk stance without giving the Issue due consideration, I used The Google to do some research".
And: "I also have a deeply personal and sad experience, which I will bring up here to invalidate your objections."
He offers "an unattributed stock photo", a digression to a completely unrelated matter and a baffling attempt to conflate the issues.
If you disagree with me on the relationship between this issue and the one at hand, here's a false equivalence comparing the Issue to slavery, or Nazism, or some other horrific historical example.
A concluding flourish:
You might have noticed that I have spent more time attacking the hypothetical positions of my opponents than actually clarifying my own position on this Issue. I will grant you that tiny concession, hypothetical-reader-with-whom-I'm-carrying-on-a-conversation, but you have failed to take into account that, prior to submitting this article, I also found some statistics. It's basically checkmate.
And the sign-off:
Author byline with impressive achievements, a plug for a recent publication, and a lot of loaded buzzwords.
It's a barbed and funny piece – and the selective quotation doesn't quite do it justice – but even funnier are the comments.
The first few, of more than 300:
On a related note, the year's most incisive, and hilarious, picking-apart of internet discourse is Top Phillips'
"29 Stages of a Twitterstorm"
at Buzzfeed UK. If you haven't already, go read it now.
See also: Goldmine or gutter - the debate over online comments
Follow the Listener on Twitter or Facebook.
MostReadArticlesCollectionWidget - Most Read - Used in articles
Most Read
AdvertModule - Advert - M-Rec / Halfpage
Featured
86110 1/20/2018 10:49:32 AM
86056 1/20/2018 12:00:00 AM
85715 1/20/2018 12:00:00 AM
85737 1/20/2018 12:00:00 AM